Join us at Artpace for Julia Claire Wallace's live, durational performance, Translucence, as part of our current Hudson Showroom exhibition, After Carolee: Tender and Fierce. Curated by Annette DiMeo Carlozzi, After Carolee is on view at Artpace through July 18, 2021.
This interactive performance is free and open to the public. Registration is required. The performance will be viewed in 30-minute timeslots, from 6pm–8pm on Thursday, June 24, 2021, at Artpace. Face masks are required during your visit.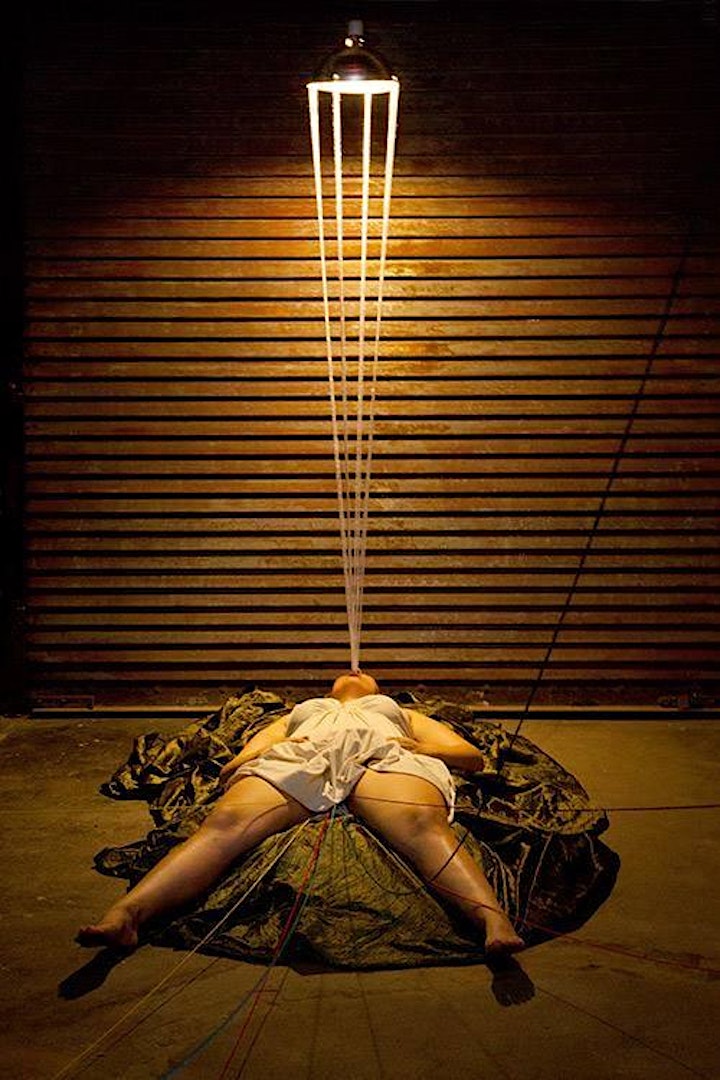 This is a piece about light coming in one way and exiting another way.
Split. 
This was an attempt at giving everyone something full of energy. 
At first I thought I had to push the energy through me. 
Breathe it in, and push it out. 
Then I realized, all I had to do was breathe it in and the rest took care of itself. 
That is when I really felt the power. 
Just absorbing the light, 
Breathing it in and breathing back gratitude. 
The light playing abstract pictures on my closed eyelids.
Bliss/Peace/Being 
The rest of the string flows exactly where it belongs.
Effortless. 
Surrender.
–Julia Claire Wallace
About the artist
Julia Claire Wallace is a Houston-based artist and organizer. She holds a BFA in painting from the University of Houston in addition to a Master's in Arts Leadership. She continually blurs the boundaries between art and life, creatively facilitating performance art collectives and events as well as creating in a variety of media, including social practice, painting, writing, spoken word, social media, performance, and video. She is the foundress of Performance Art Houston (www.performancearthouston.com), an entity created to cultivate the Houston performance art scene. She co-directed international performance art festival Lone Star Explosion 2012 and is a founder and director of Experimental Action, Houston's Performance Art Festival (www.experimentalaction.com).